In 2019, NSWP (Global Network of Sex Work Projects) did with us a small interview, as part of their Featured Members profiles. LINK
Why and how was your organisation created? 
The first idea for SexWorkCall was mentioned in late 2018, in a context where there was no previous movement for sex workers' rights in Romania. It was founded by sex workers who first met on online platforms, seeing that we shared the same wish to do something about the high level of violence and discrimination.
We all thought it was about time to meet in real life (since we were all based in Bucharest) and start to mobilise together for better working and living conditions, to work towards ending violence and stigma against sex workers, and to address the stigma in our own communities, as some of us are queer, trans and/or Roma. Therefore we strive to work intersectionally and have already developed a collaborative relationship with local groups and associations working on Roma, LGBTQIA, migrant, housing, feminist and HIV issues.
The name "Sex Work Call" was coined by one of us, Antonella – who thought one of the main needs of the community is an available telephone number through which any sex worker could get some support, whether it was about dealing with the police, violence from other perpetrators, discrimination while trying to access justice or health services, and others.
What are the priority areas that your organisation works in?
SexWorkCall has existed for a few months, and we decided to deliberately focus internally during this time, on building our collective. Through a project with ICRSE on migration and sex work, we managed to access some resources which helped us establish. We now rent a small space, our office where we meet and run a drop-in with working hours for other sex workers. We already have available safer sex materials, condoms and sanitary pads. We also managed to buy a phone and establish our hotline. We have developed a few internal documents related to our strategy and mission, and have just registered as an association. We are doing outreach outdoors, as some of us already have been working for years on the street and know the issues inside out. We had a few public events, two film screening, a roundtable with (potential) allies, and a protest for June 2nd/International Sex Workers Day, when we called in the most visible way for full decriminalisation and workers' rights. In July we will do a freeshop* and generally would like to focus on more community-focused events.
(*freeshop = where anyone can come and deposit clothes, shoes, objects in good condition, that they no longer need and could be used by somebody else. It is non-transactional, meaning anyone can leave and take whatever they need, without the obligation to reciprocate and "exchange" or barter. In our case, we focus on clothes, shoes etc that are considered "sexy" (whatever that means) and suitable for sex work).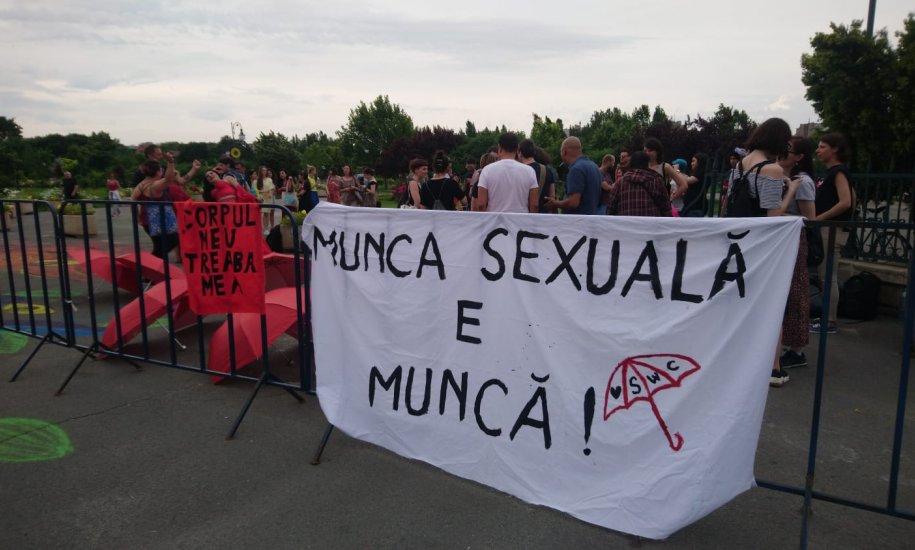 How are sex workers meaningfully included in the organisation?
SWC was founded by sex workers. In June we developed a new strategy and established to keep the decision-making body (our board) and membership sex worker only.
Do you do political work, or campaigns? What kind?
We consider all our work political. We are planning to focus in the future on advocacy work and concrete collaboration with politicians, but we also recognise that there is so much to do. We would like to focus in making the idea of decriminalisation more known to the general public, and counter certain abolitionist voices, or intentions to legalise sex work in a way which would be problematic for sex workers.
What are key issues for sex workers in Romania?
The main issues sex workers face in Romania are discrimination, poverty, lack of general education and of sexual education. For example, when the owner of the flat you've been renting finds out you are a sex worker, he can evict you without returning your rental deposit. If you announce you are a sex worker when you want to rent, then the owner increases the rent. Being a sex working mother puts more pressure on you and you can take on riskier situations in order to get out of poverty, or to able to support your children.
Roma sex workers face double discrimination, based on their ethnicity and for being a sex worker. Sex work is a taboo in Roma community and sex workers are rejected from the community. As a Roma sex worker, you may not be accepted in your community and you also face marginalisation and exclusion; for example, other people would not drink or eat with the glass or tableware a sex worker has used. Many Roma people are victims of marginalisation, be it in the sex work or any type of work actually.
Transgender sex workers face issues in regards to supporting their transition, not being able to fully transition in Romania, purchasing hormones from the black market, lack of access to medical services, and lack of medical services that provide anonymous testing. For example, one transgender woman who wanted a hormone prescription from a medical doctor was rejected by the doctor based on her biological sex. Transphobia is also one of the most important issues transgender sex workers face in Romania. For example, one cannot continue studying when starting to transition due to transphobia among colleagues and teachers. Also, not being able to change your administrative documents increase the situations when a transgender sex worker can be discriminated against, and police officers who fine transgender women sex workers on the street often address them by male names. Thus, it's impossible for a transgender women sex worker to open a business, to find a job. Transgender people are driven away from their homes and have to support themselves alone. If you are a transgender Roma sex worker it's even more difficult to find a place to rent: the owner refuses to rent when he sees your ID or he asks for the working contract and imposes much more regulations than for other clients.
Sex workers who use drugs are also criminalised in Romania and face double stigma. There are few services for drugs users and there's no place they can go to safely use drugs.
Because sex work is not decriminalised, there is no social protection, pensions, holidays, medical insurance. Practically, sex workers are at the mercy of law enforcement officers who often commit abuses, and at the mercy of managers that can impose unfair working conditions. The fact that sex work is punished (until 2014 with prison, now with administrative fine) sends a clear message that we are not on an equal footing with the rest of the citizens of our country.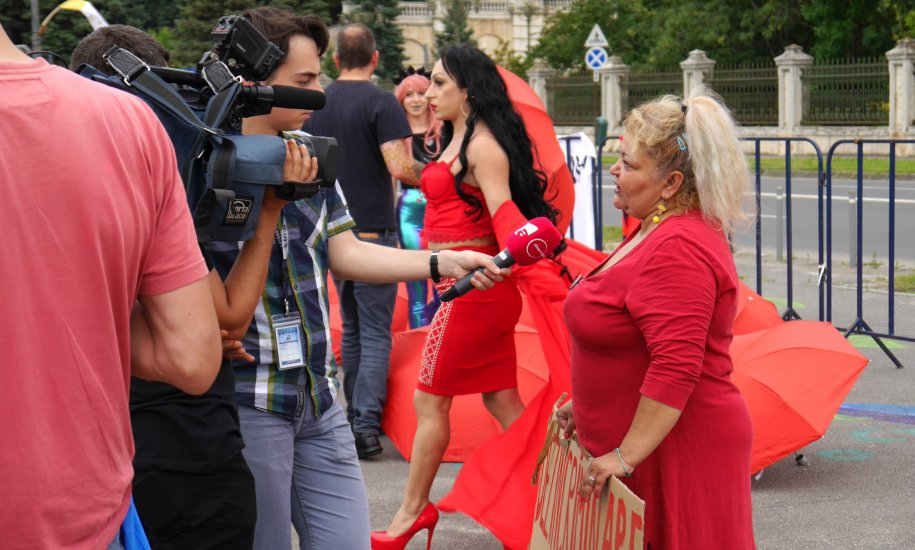 What about Romanian sex workers outside Romania?
Many sex workers left Romania due to necessity, and many migrant sex workers in Europe are Romanian. All the issues they face here, poverty, discrimination, pushed them to leave to work abroad. There, they face racism, lack of papers and deportation, and have no access to medical and legal services. Many people were fooled they would get a job in another country; once they arrived in that country, their papers were confiscated and they were exploited. Without papers you cannot make a complaint or go to the doctor. It's a vicious circle, due to poverty, restrictive migration policies and laws criminalising or penalising sex work, which lead people to engage in very risky situations and without any empowerment to mobilise against violence.
What are the main challenges for the organising of sex workers in Romania?
There is competition between sex workers: on places to work, clients, money… But now, we will approach them as members of the organisation, not as potential competitors. The worsening of living conditions of the general population automatically leads to fewer clients and less money, and automatically to more people who become sex workers – this leads to competition. Then, the degree of stigma and marginalisation from society also leads to certain internalisation of stigma that manifests through intra-community violence: there are video chat models that marginalise people doing erotic massage, there are people in erotic massage that discriminate against full-services sex workers. Street-based sex workers face a lot of stigma from other workers in the sex industry. We think it's empowering that in SWC we are people with different experiences in various sub-fields of sex work. We may not face the exact same particular problems, but we do face stigma, all kinds of violence including structural, and we think it's important to build solidarity across sectors of the industry, and of course with the rest of the working class as well.
How does sex workers' rights fits in the current political climate in Romania?
Another challenge is the context of rising social conservatism, including in Romania: the mainstream discourses are anti-women, anti-LGBT, anti-Roma, anti-sex workers. There is a strong movement of fundamentalist Christian groups pushing their agenda in the mainstream and in politics.
Regarding mainstream electoral politics in Romania, the label "liberal" or "social-democrat" do not count for big parties, as this has never translated into actual policies accordingly. There are a few small initiatives and new parties, but we think that a proposal for decriminalisation would require cross-party support.
From various parties there have been discussions on prostitution in the past, their intention being to legalise it every time. But these discussions have always been about how sex workers should be taxed – it was never about our human or labour rights. Fortunately, we have some support from members of civil society: some LGBT, transgender, Roma, feminist associations and informal groups. And after all, this is the most important thing, to build solidarity and bridges between communities, considering how diverse sex workers' communities are and how a lot of marginalised communities face intersecting issues.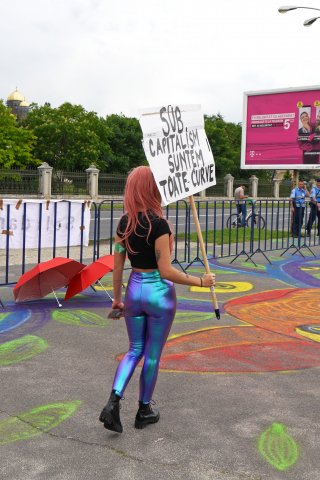 What activities will you be doing in future?
Our upcoming activities relate mostly to community mobilisation for our rights. We want to organise meetings, trainings, and outreach activities. We now also have a new space, and we are planning to use it as a kind of drop-in, with opening hours. We also want to be more visible in the public space and in mass media. One of our main interests is working to propose a bill for decriminalisation of sex work and to have this on the authorities' agenda.
What challenges does your organisation face in the future?
Probably a lot. We expect backlash, from fundamentalist Christian groups to abolitionist feminists. Also, community organising in the face of precarity, impoverishment or downright poverty is extremely difficult.
Any message for sex workers in Romania, Europe, globally? 
You are not alone!